Interview with Brigadier-General Lemos Pires
By: Filipa Goncalves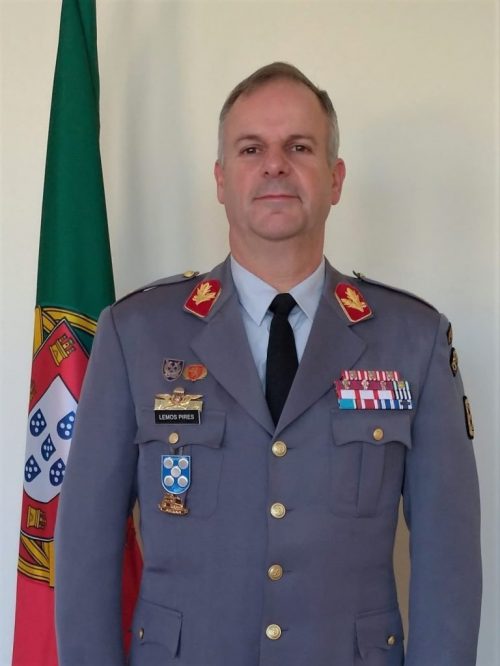 A career Infantry and Special Operations officer, Brigadier-General Lemos Pires, Portuguese Army, PHD, has the virtue of having the bridge between knowledge and know-how.
In the last eighteen years, BGEN Lemos Pires has had a rich military experience. He has served as Military History and Strategy Professor at the Portugal (PRT) War College; as Intel Officer in NATO Rapid Deployable Corps – Spain; as Military Assistant to the Commander at NATO Joint Command Lisbon; as Mechanize Battalion Commander in the PRT Mechanized Brigade; as Training Director at the Combined Arms School and Commandant of Cadets at the Portuguese Military Academy. Since February 2019, he is the Deputy Director for National Defense Policy at the Ministry of National Defense of Portugal and Professor at the Portuguese Military Academy, in Lisbon. In addition to these assignments, BGEN Lemos Pires participated in missions in Mozambique, Angola, Pakistan and Afghanistan.
With a PhD in History, Defense and International Relations and two War College Diplomas (Flag Officers Promotion Course and Staff Course), he is also a scholarly man. So far, BGEN Lemos Pires has published 10 books and cooperated in more than 100 books, articles and projects in Portuguese, Spanish and English, related to Military History, Strategy, Terrorism and International Relations.
Given his accumulated wisdom, I asked him about the future of leadership and the impact of technology and bad leadership for junior officers.
Here is what he said.
You have been thinking about war for a long time. Do you think leadership will have to change to address the 21st warfare challenges?
By itself, no. But realistically speaking the standards for leadership will have to change. It's a necessity if a leader wants to lead in a rapidly changing, dangerous, unpredictable world. Two fronts seem plausible. Firstly, vital concepts in leadership like inspiration, influence, and integration will have to mature to deeper levels of understanding towards building more cohesive and effective teams. Secondly, as risk will be constant, untraditional and bold decisions must be made. Leaders should get used to command outside their comfort zone, meaning that adapting their style of command, on a continuum basis, is imperative. 
What will be the most effective leadership philosophy, then?
Without hesitation, adaptable leadership centered on three central pillars: authenticity, trust, and proper communication. The main idea is if the operating environment is becoming increasable complex let´s counteract and alter military leadership in these new conditions. This might not sound ground-breaking but is a daunting job for a leader. In this leadership type, teamwork is the unit's Centre of gravity that harmoniously cooperates despite the different perspectives, views, and interpretations. The leader is the glue that holds everything without barriers. Since the why and what he/she expects from the soldiers is properly explain from the outset, the leader can be flexible in improving the unit´s talent management and dispersing decision-making even further when an expected situation or event demands more creative solutions. Good ideas came from all ranks and a leader must use them with dexterity. Nevertheless, the leader's main vulnerability will come from answering with authority "I don't know". Confidence will be his/her biggest asset as it will empower the humility of not having all the expertise. The effect is the affirmation of a credible leader. But this optimum state of leadership only occurs because the leader has shown determination and faith in the mission assigned and took the time to listen and observe his own soldiers.
Based on the above leadership description, how would you typify this future adaptative leader? 
I do not like the idea of characterizing a future leader. Leadership is developed under specific conditions and that is what makes outstanding leaders unique. It is about character, not idealization. Recently, I concluded that the best military leader is not necessarily the one better prepared but the one who can better respond to adversity. Therefore, I prefer to concentrate on what a Junior Officer can personally develop.  My guidance is to pay attention to mental health. Being healthy emotionally promotes productivity and effectiveness as well as the capacity to better respond to life changes and cope with hardship whether private or professional. Hence, improving an individual emotional intelligence is the recipe for success. Learn to recognize feelings or emotions in oneself and others, know how to manage them, using them to self-motivate, and applying them in the various relationships that you develop. If a Junior Officer can master these four characteristics, he will likely achieve goals and be productive. In the profession of arms, self-confidence and discipline are utterly vital. 
In your most recent book Quantum Civilization – A possible path to uncertain times, you explore the idea that we need to rely on what technology can offer best, but also, if we want it to work effectively, it must be in permanent conjunction with human conscience. Does this idea also apply to the military leadership context?
Indeed. Even more valid if we are talking about decision making. Never has a leader had such advanced technological paraphernalia helping him/her to lead. The speed at which the warfighter can collect, process, analyze, and understand data that directly impact mission success, is unprecedented. We are all fascinated by these fresh circumstances. Some scholars advocate that technology makes us think, which I fully agreed with. But are we becoming lazy thinkers? Which are the implications of "new thinking"? Do the algorithms provide accurate or biased answers? This is the dark side of technology. Perhaps we are overestimating the technological value at the expense of brainpower. Technology is not the answer to all the military problems. Investing in people is. Don't get me wrong.  I am a big technological enthusiast. However, we are far from reaching the optimum balance where technology is the best tool to achieve a military advantage.
 In that sense, is develop critical thinking a fundamental skill for a junior officer?
If critical thinking is recognized as the ability to engage in reflective and independent thinking to the best possible solution in the circumstances that the thinker is aware of, yes. Within the military world, I have observed that the soldiers who thrive are outstanding creative problem-solvers. And it is an important characteristic that will prevail.  Junior Officers must train themselves to know how to think to identify and understand the complexity of the problems they are facing. Intellectual curiosity and an open mind are some tools for this. In the times to come, GEN Mattis' remarkable quote "Engage your brain before you engage your weapon" will prove its wisdom. Making thoughtful decisions is the only way to counteract future regrettable military actions against the enemy.
 Unfortunately, some of these wrong decisions are a consequence of bad leadership. How important are these circumstances for a junior officer?
The sooner a junior officer is confronted with bad leadership the better. I know it sounds strange but being exposed to uncomfortable leadership circumstances is the greatest driver to know ourselves professionally and whom we want to become as a leader. So, take it as an advantage. Think of how you react and assess your performance when you are confronted with a bad decision. Analyze your commander's leadership style. Does he/she communicate effectively and assertively? Is he/she a team player? if a junior officer deliberates about these questions and about others that might arise with the proper mindset, I am convinced he/she is on the right track for its leader development.
If you were a junior officer now, what advice would you like to have received?
Keep developing yourself as a leader. You might be a Rockstar leader now, and a decade later, a fiasco.  Your leadership style cannot be static. It will have to change in accordance with the different levels of war you are assigned. And never forget, serving your country at the best of your capacities is the end goal, not being a leader. 
———
Filipa Goncalves is a civilian with international experience across military and diplomatic environments. Her last position dealt with NATO Civil-Military Cooperation.  She holds a Master's Degree in Political Science and International Relations from the Catholic University of Portugal. 
———
Image from: defesa.gov.pt