Overcoming Fear as a New Staff Officer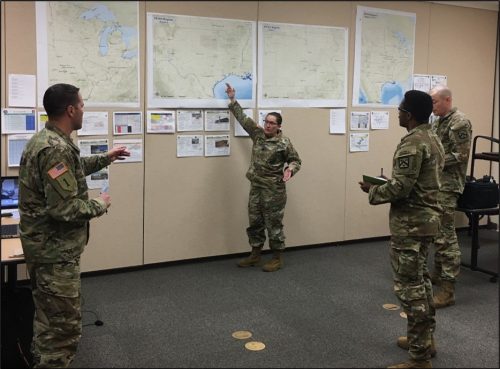 By: George Runkle
Welcome to your first duty position after completing your Basic Officer Leader Course!.  I am sure that you're ready to take a Platoon, lead Soldiers, and do all of the exciting things that you learned or saw in recruiting commercials!
But before you do all of that, have a seat in the Battalion S-3 shop and plan this Hail and Farewell.
I know you're shocked, and disappointed, because you've probably never heard of a Hail and Farewell and you're wondering why you aren't taking a group of highly motivated Soldiers to the range.
But maybe that isn't you….
Maybe you've just finished your year of Platoon Leader time and it was three years too early. You were sure that your 300 APFT score, consistent 40/40 marksmanship skills, and a dream of going to Special Forces was going to get you a specialty platoon or a sweet XO job. 
But before you do all of that, have a seat in the Battalion S-4 shop and do the paperwork to request porta johns and meals for your old platoon's next training event
In either scenario, you are probably heartbroken, disappointed, frustrated, and feeling like the chain of command has no interest in you.  But make no mistake about it.  You're in a Leadership position, you are being challenged, and above all – you are being evaluated.  Constantly.
Regardless of your specific situation, this article is designed for you – the brand-new staff officer.  Some things apply more to experienced Platoon Leaders than others, but the Army has educated you (educated, not trained – there is a difference) to identify what applies to your current situation and what does not, so I will not separate this article for pre- and post-Platoon Leaders.
Welcome to the Staff
The number 1 piece of advice I have for you is that you will be evaluated on your competence, maturity, and readiness by how well you accomplish sometimes dull tasks. 
Expect to be tasked with planning a hail and farewell, serving as the Battalion point of contact (POC) for the Brigade redeployment ball, or similar events.  You are building experience at planning and giving the Battalion S-3 and Battalion Commander an opportunity to evaluate the tenacity of your personality, your work ethic, and attention to detail.  Take action aggressively, take the project very seriously, and do it well and you'll find yourself in a platoon much quicker than the other officer. 
You work for a primary staff officer, but be mindful of your informal supervisor – the Captain AS-3 or the senior post-Platoon Leader staff Lieutenant that is about to go to the Captain's Career Course.  As a Captain, or even a promotable Lieutenant, I have absolutely told a field grade officer that a new officer wasn't ready for the challenge of a platoon because he couldn't follow a step by step list I gave him for a simple task, even when I included the conditions and desired end state.
Preparing for the job – You work for Commanders, and are always a part of HHC
1. Become an expert on Microsoft Outlook, Excel, Word, and SharePoint. This is simple and something you can do at home or even before you get to your first unit. The service is also open to ROTC Cadets.  You can take classes on the Skillport website: https://usarmy.skillport.com/skillportfe/custom/login/usarmy/login.action. 
You won't get promoted or awards for them directly, but with this knowledge you can have your junior Soldiers eventually take the same courses – and they will get promotion points for them.  And you will find yourself more competent with technology, which allows you to be more versatile and efficient…. And that will get you recognized. Be a Guru when it comes to Microsoft Office products.  Then, coach everyone else to get on your level.
Make a signature block on outlook, ensure it includes your desk phone number (or a desk you can easily access), your cell phone number, and your email address.  Set outlook so that it automatically includes the signature block on every email you write, forward, or reply to.  Never send an email without a signature block that at a minimum has a phone number to reach you at.  Also, go into the GAL on MilConnect and input your cell and office phone numbers so that when people right click your email address, they see your phone number.
Set up your PST file; use it to help organize your emails and keep your Outlook mailbox within the size limits. You will notice that most people only have a 1GB or 500MB email system, and those who fail to set-up their computer storage drive (the PST) and use it, are always unable to send emails, receive emails, and are generally disorganized because "their email is full". This also lets you keep every email you get and send, so that you never have to call someone and say "hey, please resend me the task you gave me" or "No, sorry I don't have that so I can't help you."
Learn how to use the Outlook calendars. Mess around with them, ask for viewing rights for all of the Company command teams and Battalion primary staff. Learn how to make things color coded and categorized it; how to invite people to events; how to include files with events; get access to the Brigade and Battalion outlook calendars.
2. Bookmark the unit's share drive and share portal.  Find the unit Knowledge Management Officer or S-6 officer to explain the difference between the two, then take some time before you're given any big projects to navigate both and find examples of previous versions, and generally understand where things are located.
3. Personally introduce yourself to all of the Company Command Teams (XO, 1SG, and CDR) in your Battalion. Starting with HHC, since that is your Commander, physically walk down to each Company Area inside your Battalion and give all of them your cell phone number. There are a million Lieutenants waiting for a platoon in any Brigade, and Company Commanders have some vote in who they get to fill leadership positions.  Be the face that comes to mind – but be warned.  Once you introduce yourself, you have made an informal pact to always support that Commander, be an officer who is always honest and polite to that officer, and who can be counted on in a time crunch to help the commander accomplish staff actions.  After all, the staff works for Commanders. 
4. Add Leaders in the unit to your cell phone contact list with their rank and position. Always be that guy who can give someone a phone number if they need it or can get in touch with someone in an emergency.
5. Read the history of your Battalion and Brigade; check out the historical exhibits in the BN HQ. Your unit has quite the history and forms the foundation to a number of things that you'll be involved in. For example, the 2nd Cavalry Regiment was formed in 1836.  So all of our social events began at 18:36 in the evening.
6. Understand the difference between a Supply Sergeant and the Battalion S-4 NCO. Don't get them confused unless you want to lose a piece of your hide.
7. Get your TMP License. Inevitably, you'll be on some sort of duty that requires driving a TMP and you'll make the situation much easier if you can drive yourself.
8. Make time to support the HHC Company Command Team.  Be very proactive in learning from the HHC Commander and finding out how you can help your Company.  Never forget you're on the Battalion Staff first, but you're in HHC always.
On the job – Everything You Do is Evaluated
1. Read doctrine and learn every day.  Find the journal for your branch and the self-study program for whatever Center of Excellence covers your Warfighting Function. Even if you aren't an Armor, Aviation or Infantry officer, check out the Maneuver Center of Excellence Self Study Program.  Ask questions.  Talk to NCOs.  Get into the appropriate simulators and troop schools for your branch.
2. Don't skip PT – But don't ignore work to exercise, either.   You may need to workout more or differently than before because staff work can be sedentary. I found I had to work out twice a day based on my metabolism and fitness goals. If you want a horror story about how failing to arrive at your unit with a 300 APFT score can kill your confidence and ability to make a decision see "Overcoming Fear as a New Leader."  Do PT with the BN S-3 Shop Soldiers so that you can build personal relationships and trust, which will pay off when you go to the field or when you take your Platoon.
3. Read every email. Nothing screams lazy or incompetence like admitting you don't read your email or being unaware of a message you were sent a day or two ago. Read all your email every morning before 0630 formation, because during PT is when you'll find yourself doing most of the coordinating that counts.
4. Battalion Staff Duty days are the best opportunity for you to catch up.  Don't go home during Staff Duty, stay in the BN HQ and catch up on work or get ahead.  You will make a positive reputation with all the BN NCOs if you're known as the Lieutenant who stays in the BN footprint when they have staff duty.
5. You will most likely work in S-3 Current Operations.  In that case, the Battalion Operations Sergeant Major, the Battalion Ops NCO, the Master Gunner, and the Land & Ammo NCO will be your best friends.  Not a day should go by where you don't speak to each of them several times a day.
6. Check in with the Company XOs every morning. Figure out what they need, and what questions they have about taskings. Answer them early so they can solve problems before they become problems.  Every Leader's job in the Army is to fix problems before they become problems.
7. If a tasking is due before noon the following day, don't send it as an email tasking after 1600 without a successful phone call to the applicable primary staff or Company Commander first. If you can't get them on the phone, go see the S-3 and see if the suspense time can be delayed.
8. Maintain the task tracker like it is your bank account.  Make sure it is always accurate and up to date.  It never will be, but don't stop trying.
9. Your Lieutenant rank is an excuse to make mistakes, not be stupid.  Don't forget the difference.
10. Understand that the way you present yourself at the Platoon level is a lot different than the Battalion level and there are a lot of things you don't know. When I first came to a BN S-3 shop, I was told I was like a bull in a china shop. I had to be polished and accept that there were things I didn't know and had to be trained on
11. Talk to the Schools NCO and go to anything you're eligible for. You are responsible for your training, and you owe the Army your best effort in exchange for the education they gave you.
12. Read all you can about the vehicles and weapons in your formation. Technical Manuals, Wikipedia Articles, anything. If there is a New Equipment Fielding or Training while you are in staff, go attend it.  You will find that your schedule can be flexible as long as you get your work done on time, so make use of it.  No one will ever fault you for working those hours so that you can attend training with a line company, i.e. combatives, excellence in armor, Gunnery Skills Training, etc.
13. Keep a running log of RFIs you send to the Companies and to the Brigade. Keep track of who answers and doesn't answer.  Follow up after 2 days with a phone call.
14. Understand the Battalion Long Range Training Calendar (LRTC). You must also understand how it nests with the Brigade's LRTC.  Remember that everything on that calendar is going to be your responsibility in some way or another, so it is in your best interest to know it.
15. Memorize and understand the 8-Step Training Model. Remember to apply it in all that you do, it makes everything a lot easier.
At Home – Balance Resiliency with Being on the Job
The first time I ever realized that a staff officer's day is never really done was at 2200 on a Friday night.  We had just come in that evening after a month in the field, and I got a phone call from staff duty. 
Apparently, someone had decided to post a sign while we were in the field that my cell phone was the "on call" number if they had a question.  Fortunately, the problem was easily resolved and staff duty was kind enough to remove the sign since the field problem was over.  But this was my first introduction to the five things you need to keep in mind at home:
1. Never put your phone on silent or do not disturb. I had a conversation with the Brigade Commander on Christmas Eve once. I was the most senior person he could get in touch with, and he couldn't find the Battalion Staff Duty Officer or reach the Battalion Commander.  All he wanted to do was tell us that he walked through the Barracks and was really happy with how our Soldiers were doing.
2. Make time for your family. I have told you to do a lot of studying and work. But these things can and should be done while your spouse and children are asleep or doing something that doesn't necessarily require you.  Because in the end, when the Army has decided it is done with you, you want your family to still want you.
3. Have hobbies and friends that aren't work related. Try living without doing this, and you'll soon see why I said to do it. Dinner parties are pretty boring when all you do is discuss the latest work gossip.
4. Involve your family in physical fitness. As you get older, physical fitness gets harder unless it is already built into your family's culture. Don't believe me? Ask the married officer's who are the most physically fit in your formation.
5. When you are home, be a productive member of the household. Always do responsibilities, chores, and help around your house. You will have plenty of time to not take out the trash and do the dishes when you're deployed or in the field.  In the meantime, give your spouse and kids a break from housekeeping.
———
CPT George W Runkle IV is a planner with 3rd Armored Brigade Combat Team, 1st Cavalry Division.  He has served as a Platoon Leader, Battalion AS-3/Battle Captain, Theater Army-level Battle Captain/Watch Officer, and Battalion S-3 OIC during portions of his combined 20 years of enlisted, officer, National Guard, and active duty service.  CPT Runkle graduated with Bachelors and Masters Degrees from Georgia Southern University in 2009.
Image credit: US Army