16 Ways Effective Leaders Build Cohesive Teams in the Army
By: Jordon Swain and Leonard Wong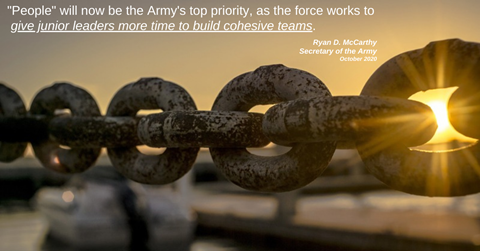 On 13 October, Secretary of the Army Ryan D. McCarthy announced that "people" are the Army's top priority and that the force is working "to give junior leaders more time to build cohesive teams."  
The Honorable McCarthy's statement got us thinking.  If junior leaders are given more time to build cohesive teams, what specific actions can they take to accomplish this goal?  In other words, how can the Army's lieutenants and captains foster cohesion in the elements they lead?
Before offering insights on cohesion building actions junior Army leaders might consider, we first want to clarify what "cohesion" is and why it matters. Leadership isn't a paint-by-numbers undertaking.  Recommendations that yield positive results in a particular circumstance for one person, might not prove as helpful to another person operating in another situation.  Therefore, we hope that by providing a short explanation of cohesion and why it is important, leaders will better understand and apply the suggestions we put forth in this post – helping them realize positive results in the organizations they shepherd.  
Cohesion is understood by many to be "the total field of forces which act on members to remain in the team."[1]  As the definition implies, cohesion is not a unitary construct.  For cohesion in the military, we find that an understanding of three types of cohesion is helpful: social cohesion, task cohesion, and collective cohesion. These three types of cohesion are different and can be fostered in different ways (more on fostering cohesion later). Social cohesion is the strength of interpersonal bonds among individual members of a group.  Task cohesion is a sense of shared commitment among group members to the unit's mission or specific goal.  And collective cohesion is pride in belonging to the group or team.  In the Army, cohesion is all about trust.  Social cohesion encourages soldiers to trust each other as individuals.  Task cohesion reassures soldiers that they can trust their teammates in accomplishing the mission.  And collective cohesion inspires trust in the team, unit, and Army. 
Simply understanding what comprises cohesion isn't enough.  Given all that leaders must focus on, we think it is important to also provide information on why cohesion is something leaders should prioritize and devote resources to.  Ignoring the debate on what type of cohesion impacts group performance the most[2], [3] [4], the bottom line is that research has linked cohesion to positive group performance – with several studies examining the performance of military units specifically.[5], [6]   In addition to performance, group cohesion has also been linked to subordinate motivation, satisfaction, and reduced turnover.  If any of these outcomes are something junior leaders care about, we submit that building cohesive teams IS something they should focus on.
Therefore, we'd like to offer some suggestions on how junior officers can foster social, task, and collection cohesion in the units they lead.[7]
Social Cohesion
1) Create ways for your team to interact with each other.  Bonds are created through proximity.

2) Lead with an eye toward inclusive practices.  Try to reduce outgroups and those who feel excluded or distant from their teammates.

3) Understand how to deal with interpersonal conflict.  Conflict isn't necessarily bad, unresolved conflict is.

4) Get to know your teammates.  Counsel your folks. Know their stories. Share elements of yours.

5) Encourage your subordinate leaders to know and care for their people and their families.  Bonds developed in garrison reap great rewards during deployments. 
Task Cohesion
6) Communication is key! Clearly articulate the mission, goal, or objective. Schedule and prepare for unit training events.

7) Train, train, and train.  Task cohesion develops as a team tackles a task together, so training is critical in strengthening the bonds of working together.

8) Establish appropriate incentives and rewards in support of goal pursuit or attainment – this can help create buy-in.

9) Provide guidance on how to achieve goals and regular feedback on progress.

10) Consider cross-training on tasks.[8]  Cross-training helps teammates understand what others do, builds confidence and helps increase commitment to goals.
Collective Cohesion
11) Explain and model the pride of being a member of your unit and the Army.  Introduce team members to the lineage and heritage of your unit. 

12) Create opportunities for and highlight success.  Winning matters and team members take pride in belonging to a successful team.

13) Conduct tough training.[9] Many feel a sense of pride and accomplishment when their organization does things others shy away from.

14) Consider fostering friendly competition between elements. Teams often come together in the face of adversity (or a common 'adversary').

15) Foster a sense of group identity through things like a motto or symbol of belonging like a unit t-shirt.

16) Demonstrate personal competence in your role as a leader.  Group members show more cohesion when their leaders are perceived as competent and able to lead the team to accomplish its goals.
As a brief aside, while junior leaders focus on maximizing cohesion in their teams – they should do so while also considering the potential negative outcomes.  Like anything, there CAN be too much of a good thing.  While cohesion generally correlates with an increase in performance, junior leaders must keep an eye out for potential negative side effects.  For example, if social cohesion is too high, the group may suffer.  There could be excessive socializing at the expense of the mission, groupthink, or even possibly insubordination.  To avoid these potential negative outcomes, it is important to establish and maintain functional group norms – rules for how teammates interact and behave.  Just like fostering cohesion, establishing, and enforcing these norms is the role of the leader.
The suggestions we offer to help junior leaders build cohesive teams do not constitute the full array of options available.  Further, some of the alternatives offered may work for some leaders and some teams and not others. There is no single silver bullet – sometimes the solution to increasing cohesion in a group is found through well-reasoned trial and error. 
We hope this brief overview of what cohesion is, and why it is important, will help junior leaders as they seek (and hopefully find) approaches that help their organizations achieve their goals. What methods have you seen, experienced, or used to foster cohesion in groups?  Given the challenge of leading in virtual environments, are there new methods or approaches not included here that you would recommend?  We'd love to hear your thoughts.
———
Lieutenant Colonel Jordon Swain is the Director of the Center for Junior Officers and has course directed the core Leadership course at West Point. He holds a Ph.D. in Organizations and Management from Yale University and an MBA from the Wharton School.  LTC Swain has published on multiple topics related to leader development including leader humility, mentoring, and humor's impact on leadership effectiveness.
Dr. Leonard Wong is a research professor in the Strategic Studies Institute at the U.S. Army War College. He focuses on the human and organizational dimensions of the military. He is a retired Army officer whose career includes teaching leadership at West Point and serving as an analyst for the Chief of Staff of the Army. Dr. Wong's work has been highlighted in news media such as The New York Times, The Wall Street Journal, The Washington Post, New Yorker, CNN, NPR, PBS, and 60 Minutes. Dr. Wong is a professional engineer and holds a B.S. from the U.S. Military Academy and an M.S. and Ph.D. from Texas Tech University.
———
[1] Festinger, L., Schachter, S., & Back, K. W. (1950). Social pressures in informal groups: A study of human factors in housing (Vol. 3). Stanford, CA: Stanford University Press.
[2] MacCoun, R. J. (1996). Sexual orientation and military cohesion: A critical review of the evidence. In G. M. Herek, J. B. Jobe, & R. M. Carney (Eds.), Worlds of desire. Out in force: Sexual orientation and the military (p. 157–176). University of Chicago Press. (Reprinted in modified form from "Sexual Orientation and US Military Personnel Policy: Options and Assessment," Santa Monica, CA: RAND, 1993, pp. 283–321).
[3] MacCoun, R. J., Kier, E., & Belkin, A. (2006). Does Social Cohesion Determine Motivation in Combat?: An Old Question with an Old Answer. Armed Forces & Society, 32(4), 646–654. https://doi.org/10.1177/0095327X05279181
[4] Wong, L, (2006). Combat Motivation in Today's Soldiers. Armed Forces & Society, 32(4), 659-663. https://doi.org/10.1177/0095327X06287884
[5] Leonard Wong , Thomas A. Kolditz , Raymond A. Millen, and Terrence M. Potter , Why They Fight: Combat Motivation in the Iraq War (Carlisle Barracks, PA: Strategic Studies Institute, U.S. Army War College, 2003).
[6] Wong, Leonard, "The Effects of Cohesion on Organizational Performance: A Test of Two Models," Dissertation Abstracts International, Vol. 53, No. 4-A, October 1992, p. 1217.
[7] Note that some of these suggestions may increase multiple types of cohesion.  For example, cross training has been shown to positively impact task cohesion, but the interaction fostered by cross training is likely to also increase social cohesion.
[8] Cannon-Bowers, J. A., & Salas, E. (1998). Team Performance and Training in Complex Environments: Recent Findings From Applied Research. Current Directions in Psychological Science, 7(3), 83–87. https://doi.org/10.1111/1467-8721.ep10773005
[9] Note- we do NOT recommend creating artificial barriers or hardships for joining the group.  While this practice has been linked to increased collective cohesion, it can easily become hazing, and destroy a unit's morale and ability to perform.
The articles and other content which appear on the Center for Junior Officers' website are unofficial expressions of opinion. The views expressed are those of the authors, and do not reflect the official position of the United States Military Academy, Department of the Army, or Department of Defense.
Related Posts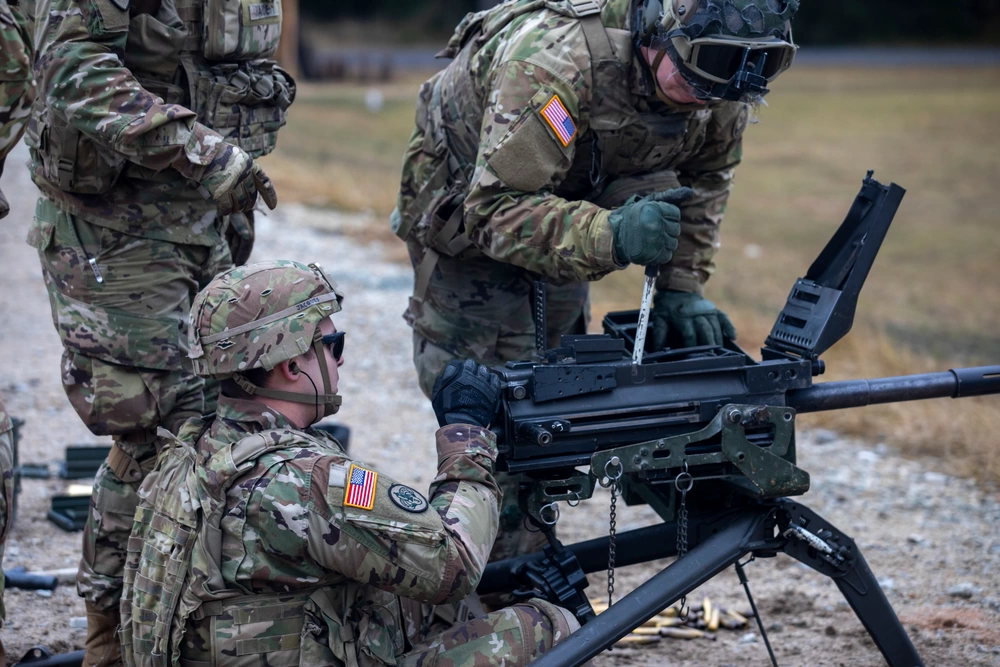 Sadly, Helmuth von Moltke was correct in that "no battle plan survives contact with the enemy".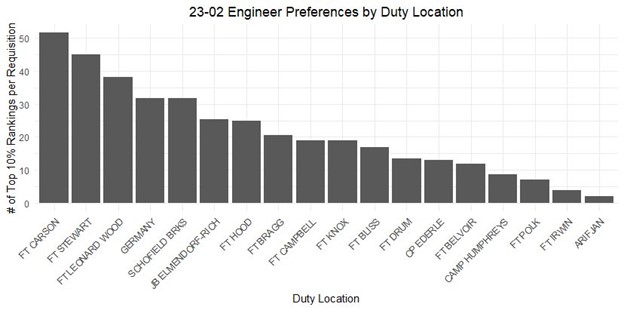 Career, CJO Series, cjo-blog, Events
It's that time of year again! The AIM Marketplace is complete, the algorithm has run its course, and Requests for Orders (RFOs) are rolling into mailboxes!