Daring Vulnerability: Strengthening Teams by Discussing Fear
By: Frances "Katie" Walter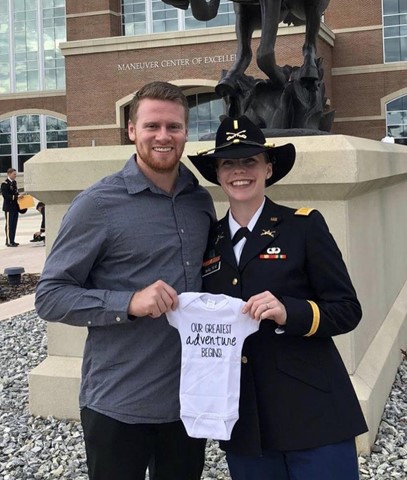 Content warning: Mention of pregnancy loss
Army Officers are called to lead courageously. But we don't always associate courage with vulnerability. Leadership philosophy writer Brené Brown states that "[y]ou can't get to courage without rumbling with vulnerability." [1]  I learned this first hand from the daring leadership of my Squadron XO during the toughest experience of my life as a Second Lieutenant.  The vulnerability and empathy of my leaders was what gave me the courage to stay committed through my trials and to not give up on the Army or my family. Specifically, my Squadron XO's compassion and willingness to share some of his own personal struggles helped me to feel like I wasn't alone, realize I was still a valuable and contributing member of the team, and that I could still be a strong leader in the future. These lessons have helped me as a Platoon Leader to counsel and empower struggling Soldiers and NCO's, and I hope they will help others lead through courageous vulnerability too.
My Story
In February 2020, right before I graduated Armor Basic Officer Leader Course (BOLC), I found out I was pregnant. My husband and I were a bit surprised, but overall excited! However, this meant that I could not attend any follow-on schools; my Scout Leader Course and Bradley Leader Course slots were canceled. Instead, I PCS'd immediately to Fort Carson in early March, 2020; my husband and I hastily packed our house and drove to Colorado. The day after I signed in, the United States went on lockdown due to the COVID-19 pandemic.
Grief
Unfortunately, 5 weeks after arriving at Fort Carson, I received terrible news at a checkup around 13 weeks of pregnancy: my baby had stopped growing and had no heartbeat. Since this was early on in the COVID pandemic, my husband wasn't with me at the hospital, and I had to call him and tell him in between sobs that our baby was gone.
I felt an overwhelming sense of both grief and failure over losing our first baby: like I personally was broken, and everything we had sacrificed – follow-on schools, packing our house for a cross country move, my husband quitting his job – had been for nothing.
The next couple of weeks I was in and out of the Emergency Room dealing with complications, and was emotionally wrung out. My husband supported me as we walked through our grief and began to heal. Still, when I thought about the Army, I felt a sense of despair regarding the opportunities I had given up, "all for nothing."
Something to Prove
My supervisor in the S-3 shop announced in May that we would start coming into work again, and it was a welcome distraction. Maybe, I thought, if I work hard enough, people won't fault me much for the whole pregnancy/miscarriage thing (for some reason I felt like I had to prove myself more now). I worked really hard on Staff for the next two months, supporting a difficult project. Based on my strong performance, my Squadron XO offered me a Tank Platoon in late July. Finally, I thought. I did it. I proved that I am worth something. That I can be successful.
That weekend, however, I got sick while out for a run, which was highly unusual for me. I took a pregnancy test, "just to be sure"… and burst into tears. It was positive.
Panic
I hadn't thought pregnancy was possible based on several factors at the time. I was instantly overwhelmed with fear, terrified of another loss. After all, I had failed the first time. My body couldn't do it. Right?
Beyond that, now I definitely couldn't be a tank platoon leader, since the medical pregnancy profile wouldn't even allow me on a tank. Like my follow-on schools after BOLC, was I really about to lose my opportunity to lead a platoon due to pregnancy? And what if it went the same as that first pregnancy? Would I even have a baby in my arms as consolation, or would I be left with nothing all over again?
Even if I dared hope that my body could handle pregnancy and deliver a healthy baby, I was scared of what everyone would say. Would people say I was irresponsible? Would they see me as "shamming", trying to "get out of" the upcoming NTC rotation? After having a baby, going on maternity leave, and coming back as a mother, would I even be able to effectively lead a platoon? How was I going to tell my leaders?
Vulnerable Leadership
Monday, I arrived at the Squadron XO's office.
"Good morning, Sir!" I managed to say somewhat cheerily. He looked up from his computer screen, seemingly relieved for a respite from endless email threads.
"Hey, Katie! How's 4-10's next tank PL? You pumped up?" he said. I smiled weakly.
 "…Do you mind if I shut the door, Sir?" I asked, bracing myself. His expression changed from excited to serious.
"Please, go ahead," he said. "Have a seat. What's up?"
"Well, Sir… you should probably give that platoon to someone else. I got sick while I was running this weekend, so I took a pregnancy test when I got home, and… it was positive. I'm so sorry. I really wanted this, but you know, I can't be on a tank pregnant, and it wouldn't be fair… I'm sorry." I stared down at my boots.
The SXO took a deep breath.
"Well Katie, first things first. Congratulations! That is really exciting news."
"Oh, uh, thanks Sir," I murmured.
"Now, I understand there's probably some feelings here." He slowed down as he continued, "to my knowledge, you lost a pregnancy this past Spring, correct? So there's probably some fear… how are you feeling about this?" I was caught off guard by the question.
"Sir… I gave up Scout Leader Course for that baby… and for what? She's gone. I mean, Andrew and I want another baby more than anything, but we weren't expecting… I'm just scared to lose this one too." I looked down again, somewhat in shock that I'd just shared my greatest fear.
"I see." He paused. "You know, people might tell you that you'll feel better once you get past the point when you lost your last pregnancy. That was when, again?"
 "13 weeks," I said, my voice breaking.
 "Mmm. Yeah. So that's what people may tell you… I don't really know if that's true. But uh, my wife and I… we lost our first baby during delivery. Jonathan." I fought back a gasp.
 "Yeah… when she got pregnant again, we never really felt safe. We were scared the entire time, until we were holding that baby, and even afterward. So… I understand you might be afraid." He paused. "We're going to approach things like you're carrying this all the way across the goal line. But no matter what, we are here for you and your husband, okay? For now, let's focus on this: Congratulations."
"Thank you, Sir," I said, my eyes filling with tears. I couldn't believe he had just shared such a sad memory, but I no longer felt alone in my fear and grief.
In spite of that, worry still fluttered in the back of my mind about what others would think of me, and about my timeline as a lieutenant. Seeming to read my mind, he continued:
"Second of all, because I know you're probably worrying about it, no one here thinks you are "shamming", or trying to get out of NTC. Nobody doubts your dedication to your job or to the Army. So get any of that nonsense out of your head right now, alright?"
That made me smile sheepishly. "Roger, Sir," I replied.
"Third of all, we are delighted to have you on Staff for the next year or so. Normally we have to send y'all [lieutenants] to platoons as soon as you show any competence… it will be nice to actually have a capable lieutenant with longevity on Staff as we build for NTC! I know you still want to contribute to the team, and we will expect as much of you while you're up here, okay? You'll track gunnery scores and taskings, and continue your great work as the Squadron PAO."
I couldn't believe the SXO was taking this as a positive thing for the unit, but it filled me with motivation.  "Yes Sir, I still want to be here and work hard for the Squadron."
"I know you do. Excellent. Now finally, I'm sure you're wondering how all this is going to impact your timeline." I was glad I didn't have to ask.
"Well, before this, you were gonna be a tank platoon leader for this fall trainup, and do wonderful and glorious things maneuvering tanks across NTC this spring. Then you'd probably have become an XO for a year, and then maybe ended up back on staff. So now what will happen? Instead, you'll be an asset on Staff this year, helping us build for NTC. Then, when everyone leaves for California, you'll bring a beautiful child into the world, and the whole Squadron will go on post-NTC leave while you're on maternity leave. After your maternity leave, you let us know when you feel ready, and we'll stick you in front of a platoon. Scout or tank, we'll figure it out then."
"Wow. This might work," I thought.
"Regardless, I can't wait to watch you kick [tail] as a platoon leader, especially after having a baby. You'll do gunnery and a whole trainup as a PL, and probably lead that platoon through a rotation. So… you see, this really doesn't negatively impact your progression… at all. You'll still get to do wonderful things as a PL… you'll just have a little sidekick." I felt like a weight had been lifted off of me. Maybe everything wasn't ruined!
"Wow… thanks Sir. I promise… I'll work hard. I'll do everything I can for the Staff, I'll keep up with PT as much as safely possible. I promise-"
"I know you will, Katie," he said, keeping me from continuing to ramble. "We all know."
I walked out of his office feeling so much lighter, actually filled with hope that this pregnancy might work out, and that I really could be a successful platoon leader and mother. Ironically, my Squadron XO's name was Major Hope.
Takeaways
Knowing I had my leaders' support during this difficult season gave me courage. I held onto the memory of Major Hope's conversation with me as an example for how to positively walk a Soldier through a difficult situation. As I looked to pull lessons from this conversation, I identified four key ways that Major Hope exemplified daring leadership in accordance with Brene Brown's model.
Joy and Gratitude. No matter the situation, we must first respond with joy and gratitude for the individual Soldier. Rather than brushing the Soldier aside as a problem, we express that we are grateful that they are a member of our team, and we celebrate their presence and willingness to share their dilemma with us so that we can support them. Each Soldier has an innate worth as a person, and when we express joy and gratitude for their presence, it breaks down walls to communication. [1] Major Hope expressed joy through his congratulations to me and shared his gratitude that I would be serving on Staff, regardless of my personal situation. This made me feel valued and opened up the rest of the conversation.
Share Fears and Rumble with Your Own Vulnerability. As military leaders, we are called to lead courageously. Brene Brown asserts that "[i]n the midst of uncertainty and fear, leaders have an ethical responsibility to hold their people in discomfort- to acknowledge tumult but not fan it, to share information and not inflate or fake it." [1] We should be willing to walk with our Soldiers through the worst-case scenario calmly and rationally. If we can relate, we may share a time when we experienced a similar struggle. When sharing personal struggles, we must avoid (a) being dismissive of the Soldier's unique situation, and (b) oversharing to the point of inauthenticity. We must be careful not to say "I know exactly what you're going through," as that can be dismissive and actually make the Soldier feel less seen/heard. Rather, we should emphasize that "I don't know exactly what you're going through, but I went through a tough time myself when I really lost hope for a while…" etc. Sharing our struggles can help Soldiers recognize that they are not "less than" for having tough experiences; rather, their leaders have also experienced trauma, and the Soldier is not alone. However, as leaders we must also avoid oversharing to the point that we appear to be fabricating an inauthentic connection to the Soldier's situation, or sharing something like "I don't know what I'm doing as a leader" that may make them lose faith in our ability to lead them. There is a fine line, which we can sense by asking the question, "how would I feel if my supervisor shared this with me?" If it is something you'd be grateful to hear and would make you feel more supported, it is likely worth sharing; if you are unsure if sharing would improve the situation, perhaps exercise some restraint. [2] Instead, choose to simply express compassion, saying something along the lines of "I am sorry that you are going through this, and I am here to support you through whatever fears and struggles you experience. We will move through this together."
Recognize Value/Contribution. Brene Brown further states that the best leaders "tuck [their] team members in around the areas where they… are particularly primed to contribute value." [1] Recognizing the ways each Soldier can contribute is important, particularly when a Soldier shares a vulnerable piece of personal information, such as "I am pregnant" or "I found out I have an injury that puts me on a limiting profile". Beyond each Soldier's innate human worth, which is unrelated to their contributions, each Soldier in the Army has something they can offer to make the team more successful. As leaders of teams, we must help Soldiers understand and identify the way they can best contribute, while battling these personal dilemmas. Some struggles (profiles, ASAP, money problems, etc.) might change the way a Soldier contributes to the team for a while, but 99% of the time they do not prevent contribution to the team. [4] We leaders must be creative in order to capitalize on what each Soldier can contribute at that time. I have found that my Soldiers on profile, due to pregnancy or otherwise, have been incredibly helpful in building gunnery packets, conducting equipment layouts, and various other tasks that enable the platoon's success. I have also seen these Soldiers recover from temporary limitations to be stronger and better teammates than they were before working through that struggle.
Encourage Hope for the Future. During the final piece of our conversation, Major Hope painted an optimistic picture of my future as a lieutenant and mother. He didn't brush over difficulties, but rather, equipped me with 1) solid goals (having a baby and becoming a Platoon Leader for a rotation) and 2) the pathways by which I would get there (serving on Staff for my pregnancy), and 3) the agency, or belief, that I can and would get there. Incidentally, Brené Brown and C. R. Snyder agree that these three things (goals, pathways and agency) are key components to hope. [1, 4] We give Soldiers hope for their future by helping them not only identify goals and pathways to achieve them, but by expressing confidence in their ability to attain those goals. They tend to reciprocate that agency, or self-belief, and pursue those goals to completion. MAJ Hope not only identified my future goals and pathways to get there, but expressed confidence that I would achieve them. That empowered me to believe that I really could succeed both as a mother and as a Platoon Leader in a Cavalry Squadron.
Major Hope displayed daring leadership by sharing 1) gratitude for my presence and honesty, 2) an appropriate amount of vulnerability with his own fears and grief, 3) recognition of the various ways I could still contribute to the Squadron despite my temporary limitations, and  4) confidence that I would return after maternity leave and be a strong Platoon Leader. Whenever speaking with a Soldier or NCO who is going through a tough time, I always come back to these four principles. They have provided me with a solid framework to lead Soldiers to courageously overcome their struggles, and I hope that it helps other leaders to do the same.
 ———
1LT Frances "Katie" Walter currently serves as a Scout Platoon Leader in Comanche Troop, 4-10 CAV at Fort Carson, CO. She is blessed with support from her husband Andrew and daughter Aurora. 1LT Walter graduated from the United States Military Academy with a degree in International Relations.
References/Notes
 1. Brown, B. (2018). Dare to Lead: Brave Work. Tough Conversations. Whole Hearts. New York: Random House. https://brenebrown.com/book/dare-to-lead/
2. Fosslien, L. and Duffy, M. W. (2019, February 8) How Leaders Can Open Up to Their Teams Without Oversharing. Harvard Business Review. https://hbr.org/2019/02/how-leaders-can-open-up-to-their-teams-without-oversharing
3. It is important to note that some traumas may be so intense that a Soldier needs to transition out of the Army; in this case, refer back to Takeaway 1: expressing joy and gratitude for each person's innate dignity and worth. No human being is worthless, and as leaders it is our duty to support Soldiers through their transition out of the Army.
4. Snyder, C.R. (2000). Handbook of Hope: Theory, Measures, and Applications. San Diego: Academic Press. https://psycnet.apa.org/record/2000-00296-000
The articles and other content which appear on the Center for Junior Officers' website are unofficial expressions of opinion. The views expressed are those of the authors, and do not reflect the official position of the United States Military Academy, Department of the Army, or Department of Defense.
Related Posts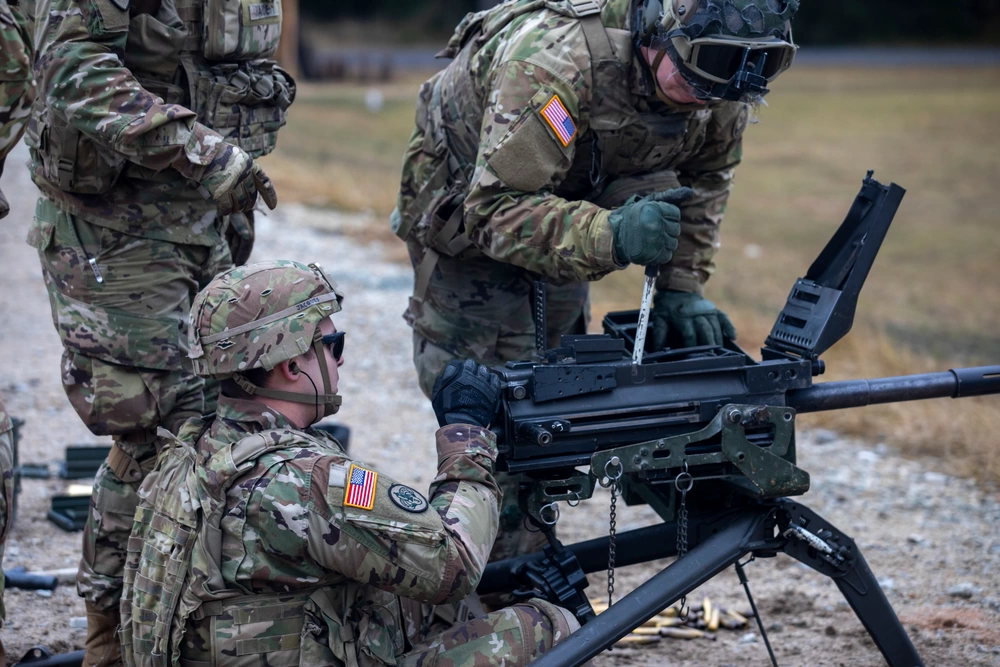 Sadly, Helmuth von Moltke was correct in that "no battle plan survives contact with the enemy".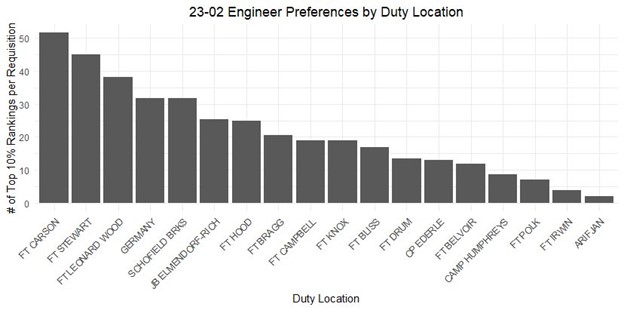 Career, CJO Series, cjo-blog, Events
It's that time of year again! The AIM Marketplace is complete, the algorithm has run its course, and Requests for Orders (RFOs) are rolling into mailboxes!