How Not to Suck at Gathering Feedback as an Army Leader
By: Jordon Swain & Chad Plenge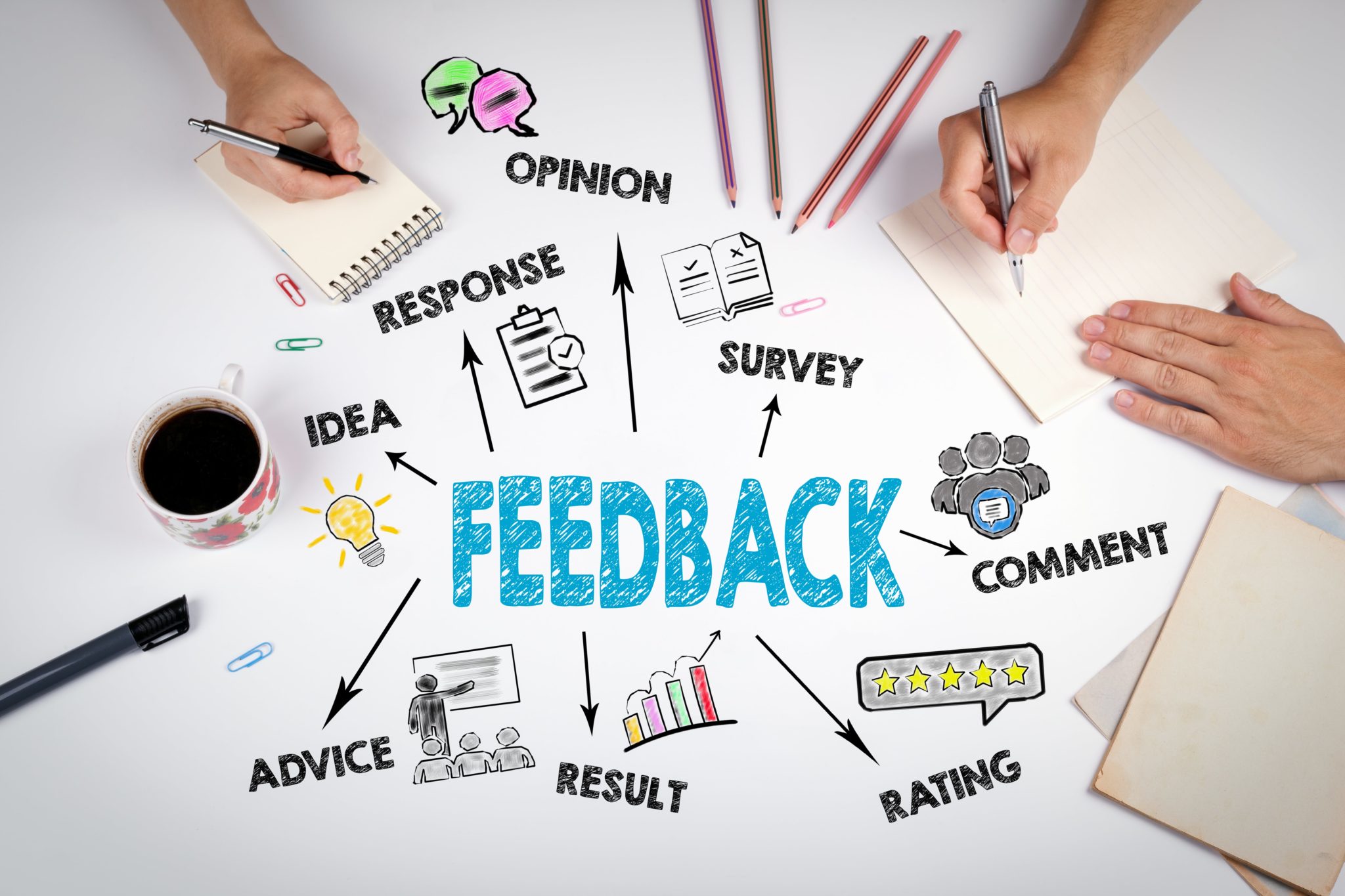 Command climate surveys, focus groups, sensing sessions, town halls, people-first solariums, and several others we are sure we're missing – wherever you look, it seems like Army leaders are soliciting more feedback than ever these days.  And for good reason.  This got us thinking.  Are there tips for planning and executing these events that might prove useful in achieving the desired end state of these feedback-seeking sessions?  You bet there are…
Many might think what follows is "common sense."  But ask yourself, how many feedback initiatives have you been a part of?  Have they all been effective?  If you're anything like us, the answers are "more than I can count" and "heck no."   We don't claim to have the perfect plan, but we've done some research, benefitted from good role models, learned through trial and error, and have sought out some expert advice – so we're confident what follows will help set you up for success and help you not (completely) suck at gathering feedback as you tackle the myriad issues you'll face as an Army leader.
Adequately prepare to solicit feedback
You can't solicit quality feedback without preparation.
Be focused in your feedback seeking. Time is valuable and Soldiers get asked for feedback from multiple sources – not just you!  Identify specific areas you know you want feedback and make sure the information you want wasn't gathered by someone else! You need to make your inquiries count.  You can't conduct these sorts of feedback gathering sessions every few weeks – not if you want quality input.  If you listen to podcasts, here is an episode on how to solicit feedback.
Determine your feedback-gathering approach. How you solicit the feedback can impact the quality of data or responses you receive.  Are you going to use email-based surveys or collect your feedback face-to-face from individuals, or perhaps from several people (or more)  at once in a group setting?  Here is a quick guide on some of the pros and cons of different data-gathering approaches. Once you determine a method, we recommend you spend time planning accordingly.  If you're using a survey, test it.  If you're interviewing people or doing focus groups, practice.  If you don't have experience in the approach you choose, seek out individuals with expertise in those methods and ask for help!
Create a psychologically safe environment. People will provide honest feedback if they feel safe.  You can do this by calling yourself out first.  Consider ensuring anonymity in the feedback process and having an outside person gathering the feedback if in-person. Conduct pre-training with facilitators (if applicable).  You can learn more about creating psychologically safe environments here.
Use open-ended questions. Regardless of your approach, you should incorporate open-ended questions. Many leaders like "quantifiable" data so they can look for trends in ratings.  This can certainly be useful, but you undoubtedly have blind spots.  There could be issues you may not know exist.  Using open-ended questions can help you gain useful insights and allows your team to provide input more freely.
Solicit feedback
Execute your plan! Why say more.
Review the feedback
After gathering your data, you will need to do some basic analysis.
Look for trends. Are the same issues being raised by multiple people? Has there been a shift over time? Also, remember to not ignore or skip over items that might not necessarily be in line with your original feedback gather intent, even if there aren't multiple data points on that topic.  Sometimes these "minor" points will become larger issues later.  Don't miss a chance to fix something before it becomes an enormous problem!
Don't get defensive. Feedback may not always be voiced politely. You may receive negative input on things you thought were going well.  You must be objective. If this is challenging, here is some great advice on how to better receive feedback. 
Seek outside perspectives. You don't have to do this alone.  You have biases and blind spots. Consider involving confidants like senior NCOs, XOs, or even mentors. You'll do your best not to be defensive and to look for trends, others can help.
Develop a plan. Once you've taken time and examined the feedback, develop a plan. What will you prioritize?  Who will champion the various efforts? What resources will you require?  Are there "easy wins" or things you can do right away rather than getting bogged down or overwhelmed as you work the larger, more complex issues/solutions?  This plan doesn't have to be a "final" product but it should be something you capture in a space outside your own head.   Leaders in the Army rotate.  Many change plans won't be completed during your tenure. 
Follow up!
Just soliciting analyzing the input isn't enough. More and more we're hearing from folks that they're tired of giving input and not seeing or hearing anything in return (this is supported by research!). You can help address this by ensuring you follow up.
Schedule a follow-up session. Don't wait too long. You need time to review feedback and to develop a plan, but you do not have to wait until the issues are "solved" to follow up.  If possible, you should consider making this feedback session something formal – it should definitely be scheduled and not "bumped" multiple times.  If you don't make feedback a priority, others won't either.
Address all feedback. In the feedback session, you should address all of the feedback you can in the allotted time – even the minor points.  You can also use the time to clarify those points that were confusing and share elements of the plan you developed/are developing.
Share some "easy wins."  A common complaint we hear is that Soldiers and civilian teammates provide input, but nothing ever gets done with it. Sharing some of the things you and your team have already addressed since receiving the initial feedback will help demonstrate your commitment and help develop trust.
Don't be afraid to say "no". Not all feedback is equal.  There are some items or input that you, as a leader, need to simply say "no" to.  The reasons may vary and saying "no" does come with some risks.  You can minimize the potential negative outcomes of saying "no" by explaining why and offering encouragement.  After all, how you say "no" will likely impact the feedback you get in the future. If you say "no" to everything, people will not feel like their input matters.  If you're too harsh in your response, the psychological safety you're working toward will erode.
Show gratitude. Show genuine gratitude to those who took time to provide valuable feedback.  Say "thank you" but also consider other ways of expressing your gratitude.  Perhaps you recognize a specific teammate if they provided a solution to a problem with an award.  Showing gratitude will also help create the psychologically safe environment you're striving for and pay dividends in future feedback sessions.
Follow up again (and again, and again…)
Having a follow up session is vital but change takes time.  Accordingly, effective leaders will continue to provide updates on any actions or initiatives that were driven by from the feedback session.  A single follow up session simply won't suffice.  That said, these additional updates don't need to be at special "all hands" meetings.  You can work the updates into your regular communication schedule – at pre-existing formations, in leader update notes, etc.   Let your teammates know you're continuing to take action on their feedback by providing updates at logical touchpoints without disrupting the regular flow of things.
 Conclusion
In closing, seeking input from your teammates on your performance or on issues related to the organization is an important part of being an effective leader. Using some of the tips we provided above, we hope you're able to obtain meaningful feedback to help you on your journey.  But you should note – obtaining this feedback may take time, especially if your teammates feel their input will only fall on deaf ears.  That said, you shouldn't become discouraged.  If you follow the advice we provide above, you'll develop trust with your teammates and we're confident the quality of the feedback you receive will improve and provide you the insights you need to lead more effectively!   
———
Lieutenant Colonel Jordon Swain is the Director of the Center for Junior Officers and has course directed the core Leadership course at West Point. He holds a Ph.D. in Organizations and Management from Yale University and a MBA from the Wharton School.  LTC Swain has published on multiple topics related to leader development including leader humility, mentoring, and humor's impact on leadership effectiveness. If you've got feedback for him, feel free to reach out at Jordon.swain@westpoint.edu
Chad Plenge teaches leadership psychology at the United States Military Academy and develops high potential leaders with the US Army's Center for Junior Officers.  He holds a Master of Arts in Organizational Psychology from Columbia University, a Master of Business Administration, and a Bachelor of Science from the United States Military Academy.  Chad is a certified Project Management Professional and an active duty officer in the US Army.  In his free time, Chad volunteers with numerous organizations focused on developing youth leadership. 
The articles and other content which appear on the Center for Junior Officers' website are unofficial expressions of opinion. The views expressed are those of the authors, and do not reflect the official position of the United States Military Academy, Department of the Army, or Department of Defense.