LC — Weighty Risk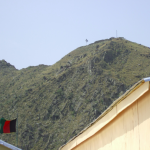 The Platoon Leader and his cavalry platoon just completed a 22-hour dismounted zone reconnaissance in the mountains of northeast Afghanistan. That action concluded a week of near-continuous platoon missions in support of a squadron operation.  The Soldiers engaged in numerous fights and had not slept in more than 24 hours.  As they arrive at the platoon area, the CSM tells the PL to expect a FRAGO to leave that night for possibly another firefight.  He tells him "Sergeant Major, seriously? We just… we're done right now. These guys are toast." Later, while on the line with the CO, the PL says "Hey, sir, uh, I don't think we're going to go down there…". The CO replies with "…get your ass down here!"  What would you do?
Topics covered:
Following legal orders

Trust between leaders and subordinates

Fatique

Risk management

Intel reporting
What's the Situation?
The platoon just completed a 22-hour dismounted patrol in support of a week-long, squadron-level operation. The last patrol included multiple TICs and no sleep. 
The PL receives a FRAGO to support OP Bari Ali, which intelligence indicates may be attacked imminently. The movement would take approximately one hour.
The movement, in the dark and with exhausted troops, would take place along a winding mountain road (Hwy 1 in Kunar province) that is dangerous to drive in daylight and with rested troops. 
OP Bari Ali, aka "Barely Alive," receives daily contact with the enemy, and there is a history of many intelligence reports warning of attacks on it. 
There is a maneuver platoon on FOB Bostick that did not participate in the just-completed squadron operation.
The PL asks his CO to utilize a different, well-rested platoon or to allow his platoon to get four hours of sleep before beginning movement. His CO orders him to begin movement immediately ("get your ass down here").