The Power of Appreciation
By: Cale Queen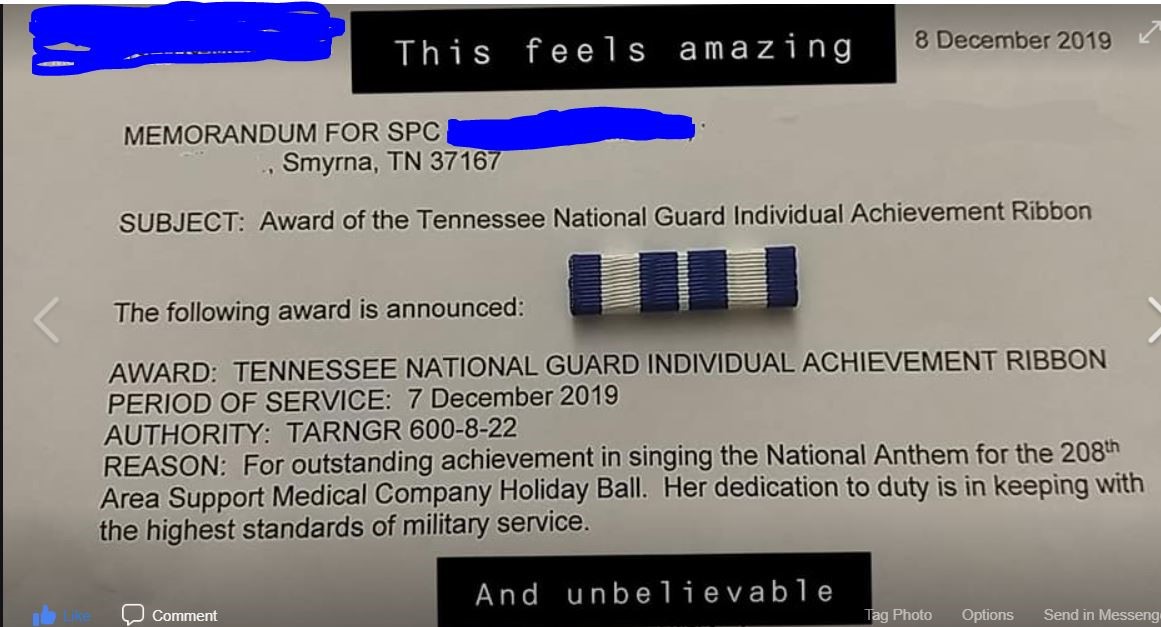 In early December, the 208th Area Support Medical Company, Tennessee Army National Guard, held its inaugural Christmas Ball.  Consistent with a Mission Command Approach, I passed off planning and execution to a working group.  The event was wildly successful: the soldiers convinced a US Representative to act as our guest speaker, the venue was amazing, and everyone had a ball (pun intended).    
I wanted to recognize the working group for going above and beyond my expectations. Normally I would have given coins, but most of the soldiers in the working group were my rock stars and previously received coins for other achievements.  Instead, I went with my other standby, a state achievement ribbon authorized for company commanders to award.  My team drew up an award citation that blended recognition of their combined achievement with mentions of outstanding individual contributions.  One Soldier sang the National Anthem so well it floored the room, so we mentioned that in her award. 
I had unwittingly tapped into something: the power of appreciation.  It turns out that as leaders we gain more by showing our appreciation for the amazing things our Soldiers do every day than we get by counseling the negatives.  Appreciation can help build the positive culture that makes units capable and resilient.  Alternatively, when we focus on failures and punitive actions to ensure "accountability" we destroy culture, trust and mutual respect.  This is called punitive leadership and its doomed to fail in the long run.
Appreciation is a key skill in any leader's tool kit, and it belongs in yours too.  As officers we ask a lot from our soldiers every day;  how often do you express honest appreciation for that service?  Perhaps you're afraid that you must keep giving awards or escalating the recognition to keep them engaged.  But it's funny how we seldom consider the opposite: no one says "We're gonna have to increase our Article 15s to field grades to keep the joes in line." 
Appreciation is also a retention tool.  I recently had a conversation with the spouse of one of my top performers.  I was surprised to learn from the spouse that the soldier contemplated leaving the Guard at the end of their service commitment.  Their previous unit demanded much of its Soldiers, had high standards, but did a poor job of recognizing their Soldiers' accomplishments.  There were never felt appreciated for their hard work and sacrifice.  The spouse told me the soldier was going to "Stay Guard" now because, for the first time, they felt valued. It had nothing to do with me:  this soldier's first line leader had told them, "You're doing a great job here and we appreciate all you do to make this unit better" on a regular basis.  The soldier decided to stay in the Guard and with our unit wins as a result.   
 We have amazing soldiers who choose a career that they know will likely lead to separations from their loved ones and inherent hardships.  They come and endure difficult training, living, and working conditions.  They deploy on short notice to anywhere in the world where someone may try to kill them.  The least we can do as leaders is show a little appreciation.  It costs little but pays back so much more.
Editor's note: For more on some ways that leaders show appreciation for their Soldiers' achievements, check out "The Art of Rewarding Soldiers" from our Army Magazine Article archive.
———
Cale is a National Guard officer who works with Process and Performance Improvement in his civilian career.  He holds a Master's of Science in Healthcare Administration and a Master's of Business Administration.  In his free time he is pursuing a PhD in healthcare administration.