Army Leadership and Peer Evaluations
By: Sebastian Coates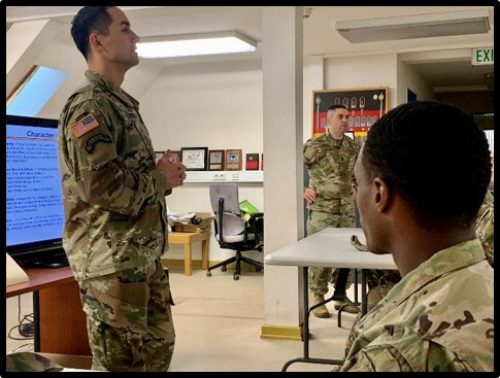 Feedback is a cornerstone to growth and development for individuals in any organization, not just the U.S. Army. To improve at a task or a particular position, one must receive information on what they are doing well and what they need to improve. 
Service Members or civilians working in the private sector receive feedback from multiple sources. The most common source of feedback comes from their supervisor. A supervisor can give formal and informal feedback in various ways, with the most common being counseling. Leaders can receive bottom-up feedback through these same counseling sessions, from the subordinate, or anonymous surveys such as a Defense Equal Opportunity Climate Survey (DEOCS). 
Supervisor and subordinate feedback is important, yet there is another type of feedback necessary for improvement: peer feedback. On a day-to-day basis most people are often part of a team and surrounded by peers. We typically spend more time interacting with peers than a supervisor. Peers are often in the best position to observe and assess each other because people tend to be most comfortable and natural when around people of equal rank. All of these factors create a perfect opportunity for peer evaluations.
Peer Evaluations: Across all Ranks
Feedback from peers can be hard to attain in the military or any other sector. The U.S. Army does have a Multi-source Assessment and Feedback (MSAF) program where leaders select subordinates, peers, and supervisors to provide feedback, usually near evaluation due dates. Experiences with this program vary as solicitations for feedback may go unanswered. When there is feedback, it could often lack quality.
As a commander, my First Sergeant and I implemented a peer feedback system.  We first established a shared understanding of what the Army expects of Soldiers and Leaders through a formal development program. We used information from the ADP 6-22 and examples tailored to all ranks, from Private to Captain. Then we issued every Soldier with a folder consisting of a list of personnel in their rank group, an evaluation questionnaire with questions about the different attributes and competencies of ADP 6-22 to fill out for each Soldier, and instructions. We divided the rank groups into Private to Specialist (PVT-SPC), Sergeant to Staff Sergeant (SGT-SSG), and Sergeant First Class to Captain (SFC-CPT), with groups varying in size from 12-25.  Junior enlisted rated only those in their platoon, while more senior leaders rated peers across the company.  Soldiers were allowed about one to two months to complete their evaluations.
The first time we executed peer evaluations, we had Soldiers rank everyone in their peer group. However, the data was misleading as many Soldiers did not spend enough time with everyone in their peer group across the company. Essentially, they ranked their top peers and bottom peers. They did not know how to rate everyone else. To develop a quantifiable metric, we had them focus on a yes/no "Trust" question. The question asks if they would choose to deploy, go on a mission, and trust the person overall in a high stakes situation. The percentage of "yes" answers to that question and trends for the rest of the questionnaires were briefed to each Soldier by company or platoon leadership while maintaining the confidentiality of all questionnaires.
Benefits for the Soldier and Organization
After completing the peer evaluation activity, we discovered several benefits to the Soldiers and the organization. Soldiers down to the lowest level developed an understanding of what an Army leader should Be, Know, and Do (IAW ADP 6-22). They became more self-aware and now understand what their peers think about them, which helps enable self-improvement. Soldiers told me that they check themselves from time to time based on their feedback. They also mentioned that they subconsciously find themselves informally evaluating new people they meet or work with outside of our organization based on what they learned from the activity. All of this benefits the organization as a whole.
A Different Perspective for Supervisors
Peer evaluations also benefited supervisors. It allowed leaders to see what they were missing from their interactions with and impressions of their subordinates. They may have initially thought a Soldier was not performing to a very high standard or did not take enough initiative or ownership of tasks. In reality, the Soldier may have been a quieter person who did substantial work behind the scenes. On the contrary, some Soldiers that the leadership thought were high performers may have been assessed poorly by their peers as they conducted themselves differently when leaders were not around.
Leaders also gain a better understanding of the team and relationship dynamics within the organization. After reading peer evaluations, they have a better account of which Soldiers may or may not get along, allowing the leaders to make better-informed decisions and ensures they focus on developing specific characteristics of particular individuals, which in turn benefit the Soldier's development and the organization as a whole.
Developed Leaders and Continued Self-Awareness is Essential
Learning about Army Leadership and attaining feedback from multiple sources such as peer evaluations are essential in developing adaptable and agile leaders and organizations ready to support anything their Nation calls for them to do. Challenges face the Army on all fronts, from COVID-19 to near-peer threats. Now more than ever, the Army needs dynamic leaders who are self-aware and can consistently grow and adapt to any situation to effectively lead formations to be ready to compete with, and if necessary, to defeat our country's enemies at a moment's notice.
You can download the program documents here.
———
CPT Sebastian Coates is originally from Chicago, Illinois and earned his commission from Illinois State University Army ROTC. He currently commands 557TH Medical Company (Area Support), 421ST Medical Battalion (Multifunctional), 30TH Medical Brigade in Baumholder, Germany. In the Summer of 2021, he will attend the Uniformed Services University of Health Sciences, seeking a Masters of Health Administration Policy, which includes a one-year fellowship at the U.S. Department of State, Office of Medical Services. His previous assignments include Medical Operations Officer for 2ND  Battalion, 75TH Ranger Regiment, and Medical Platoon Leader for 2–35TH Infantry Battalion, 3RD Infantry Brigade Combat Team, 25TH Infantry Division. The views expressed in this article are the author's alone and do not reflect the official position of the Department of Defense or the U.S. Government.